Note: Judge me if you want to. I have created this blog post to educate people on the reality of dating. This was my personal experience. rather than hiding the fact and feeling sad, I wanted to show this. Because what would be the point of being an Internet Entrepreneur if I don't use my power to do good for society, especially on the topics on which people don't open up?
The story 
It was the end of April 2022, I came to Bangalore to get clarity on what to do next after closing the operation for the hicoder. HiCoder was an ed-tech company, we rant it for quite some time and we didn't like it. We closed it to start something which we believe in and get married to then starting tiny tiny companies.
I spent the first week talking to people in the PG, and some people from outside. In the 3rd week of my 4-week stay at PSR, I got bored.
I created my account on Tinder, Bumble, OkCupid, and Aisle in April 2022 and tried dating through these apps. I learn a lot of things, and also a lot about the dating app business.
It sounds very intimidating to try these apps when you get an online mention or when your friends talk about it.
I was on these apps to date but ended up exploring a very different market that is controlled by a set of apps. Hopes are being sold and the only company that gets benefitted from the usage of the app is the company that has made this.
This applies to all top platforms
Tinder
Bumble
OkCupid
Aisle
It's good that they exist and it is something a male expects once they create a platform.
The moment you join you will feel that you are part of a cool group of people.
But this is the first view.
As you spend time on the platform you will realize that every time you swipe, nothing happens.
Sometimes you get a notification telling you that you have been "liked by someone" but they won't show you the face. Your need to have a paid subscription to see that.
Once you take the subscription, you will be able to see the name and photo of the person but you will not be able to message them.
The girl has to take the first move.
This is where things become shitty.
Almost all the platforms likely have 10 boys for 1 girl, likely more. Maybe 50 boys for 1 girl.
How can I say this?
Well, the data present all.
I spent 1-hour doing speed dating. A speed chatting feature where name and profile picture and any other information are hidden from each chatting party.
I was sitting in Bangalore, A hot place for dating app users, and in 1 hour, I got to chat with only 1 member. For the rest of the time, I continue to get "no one is available in your area".
Let's get specific
I purchased bumble premium on Dec 25th 2022 and things didn't go well as I expected.
What does the premium get me? 
An ability to swipe unlimited profiles
Ability to see who liked me (no one did)
Ability to super like (5 credits per week, Once mush purchase additional credits)
No ability to message anyone
Women take 1st action (she will message if they like you back, but you can't. She necessarily doesn't need a premium to do this)
Th issue with their premium
1. Unlimited swipe (which means nothing because you are 1 in 500 who swiped right, it will be very hard to get any attention)
2. Purchase Super like.  You can super like only 5 people per week, otherwise, you should purchase extra super swipe which may cost between 47-60 rupees each. (Remember: Even if you have a tinder 700 per month subscription)
3. Purchase Spotlight: You have to purchase spotlight, A feature that will prioritize your profile to be shown to that 1 girl from 500 people who already subscribed premium.
4. It still doesn't let you message anyone, you can only do super like. This means that the premium was just to lure you in and make you feel desperate because very few or no one liked you. Even when you were not really desperate in real life.
5. This created a fake demand-a-supply issue, which isn't that crazy in real life. It is easier to approach like-minded people. From a startup group, entrepreneur group, meetup, or event.
6. speed dating: A feature that allows you to chat with people for 3 minutes and then lets you decide if you would like to continue. The acceptance has to be again accepted from the girls' end!
Females end up choosing the demand there are too many males on the platform  which
These chu***as know the male-to-female ratio and sell you hope with 3 different plans, each more pricy than the other.
Rather than bringing users on the platform, they sell the same amount of limited attention through super like and a spotlight which doesn't work.
There are reasons why this doesn't work
M to F ratio (500 women, 1 man)
One-sided density
This platform also divides the Women are Equal ration
They offer more features and control to women than men
While I was trying to date, I let one of my close female friends know about this. She has little experience but she passed mean comments telling "it's not that hard". I challenged her back and asked them to create a profile and try it.
She went crazy and got frustrated after she created the profile and spend just 40 – 50 minutes.
Why was she telling me that it's not that hard?
Because of this!
[screenshot]
Do you Remember the point 1:500 ratio. Her it was way beyond that. 1:2000.
One of the profiles she created on OkCupid, around 03:00 pm, had more than 2000 messages on her profile.
I was surprised and I just went "waaooo".
I immediately though this is not the way I want.
I have worked hard to get on the position.
About me: An entrepreneur with 3 companies, reaching 40M+ traffic and 3B+ in reach with 2-digit cr in revenue through our effort.
I don't want to stand in the queue of 500-2000 to date a female who will likely reject me because she has too many options.
I have worked for it and doing this just makes me cheap, and cheap to myself.
I will find a better way.
I guess.
The solution 
Dating app for entrepreneurs
Industry-wise filter
Reach
Revenue
But, wouldn't that be too specific a market for a business to survive? True.
Here is the way I think the general ways can be used!
if apps have a filter to define interest, there should be one app that fulfills the requirement of dating for entrepreneurs. It is way beyond the general people's understanding because not everyone understands entrepreneurship.
I personally can't stand in line and buy "spotlight" despite having premium. It's more like, "Boys have a need", "Let's take every penny we can for this". .
Thanks but no thanks.
I exited bumble premium after using it for 2 weeks where 2 weeks were left for my subscription for which I paid 699 INR.
I don't think I belong there. I also have no regret in leaving in between subscriptions because I don't want to spend my time doing useless swiping. I am better without that.
I can rather focus on business, content creation, and more which will likely be valuable.
I don't like to run behind girls, I like to work for the success of the business, talk with entrepreneurs, and see a movie from the "movie watch list" I have in my drive.
Why the hell did you sell me the premium plan? 
For unlimited swipes that means nothing because girls get a lot of likes and they face decision fatigue and no one gets anything. But bumble definitely makes money.
You can't even see the profile of the person who liked it? 
hoho
This is where they play with fake profiles and end up selling premium to just see the face of the person and still not having the ability to message them.
scenario: a boy without premium gets liked by a girl
Girl likes a boy > a boy has to take a premium to see who liked > the boy has to like back > the girl will have to message to initiate a chat. Boys can't do even when they took a premium to see the profile.
Why do these dating apps allow only females to take the move? 
If a girl has to take action, that means that bumble can sell premium to as many male people as they want.
Females are the asset of the platform so they also offer more features to preserve them.
I have a question for all the feminists who want equality. Where are you? Don't you see this issue? Or, you are just to busy being a fake feminist and only pointing out issues that will benefit women? Was I too rude? Not really!
Series of events
speed dating happens on Thursday 07:00 pm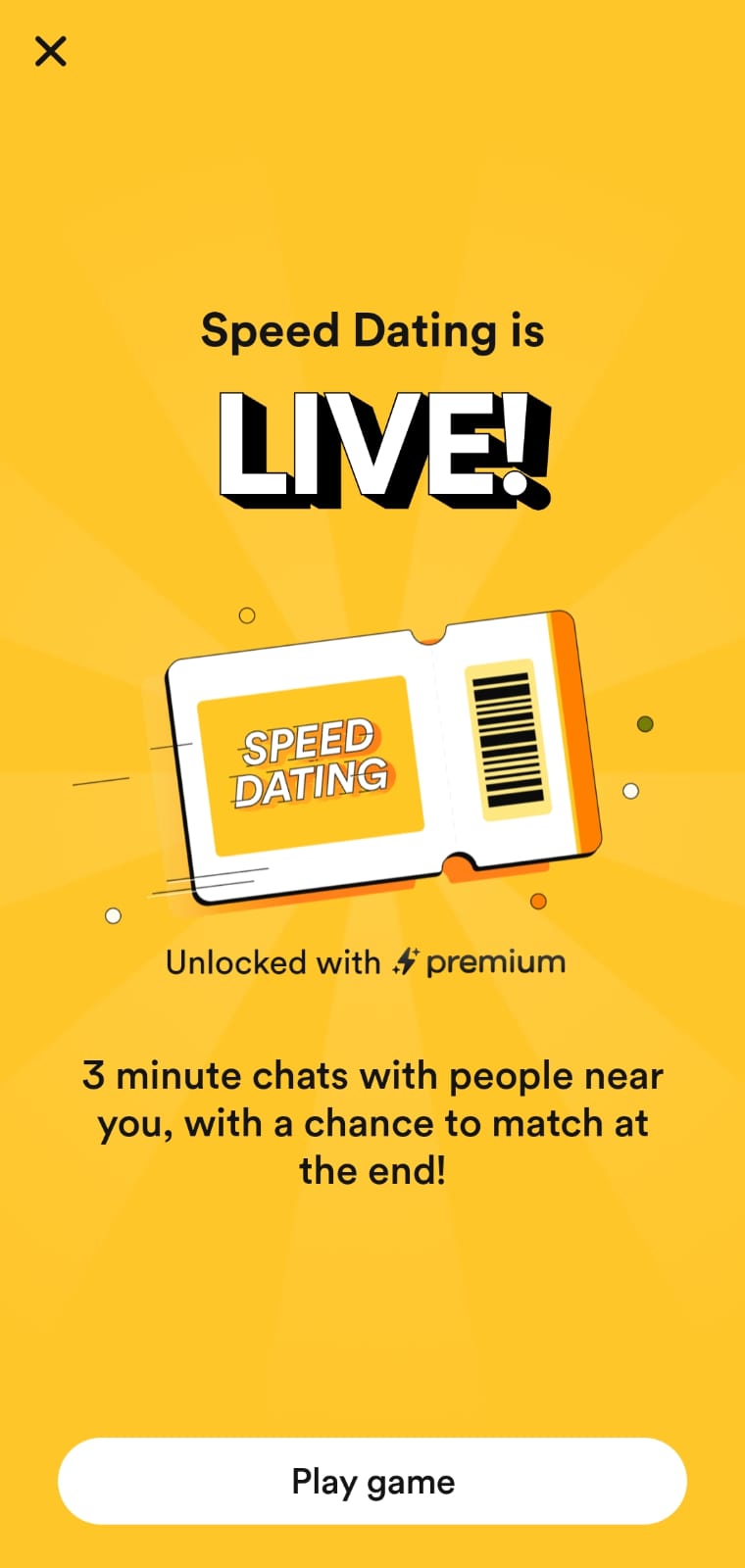 2. Cool Start
You start with a cool start thinking that a lot of people will be joining and you will definitely will be able to chat will a lot of people. At least 15 people.
Here is how it stats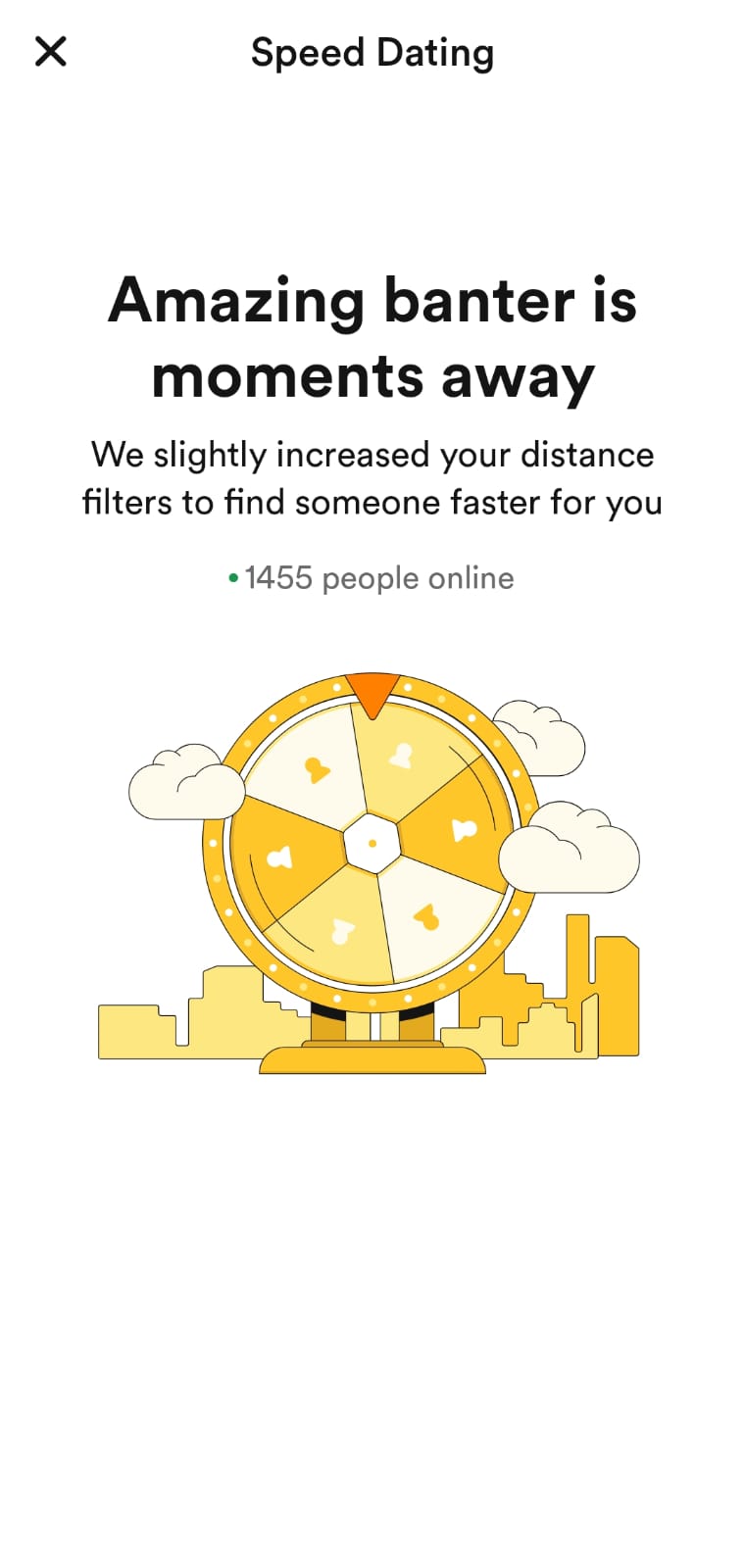 1455 people at 07:02 pm in the top 2nd city Bangalore.
Settings set: 100km
Age: 24-31 (This is age group that uses this app mostly)
Interest: Relationship, Casual, Don't know yet
2. The chat before you start.
Realty: We don't have enough time and we want to show you this annoying screen so you feel that we are working.
3. The result!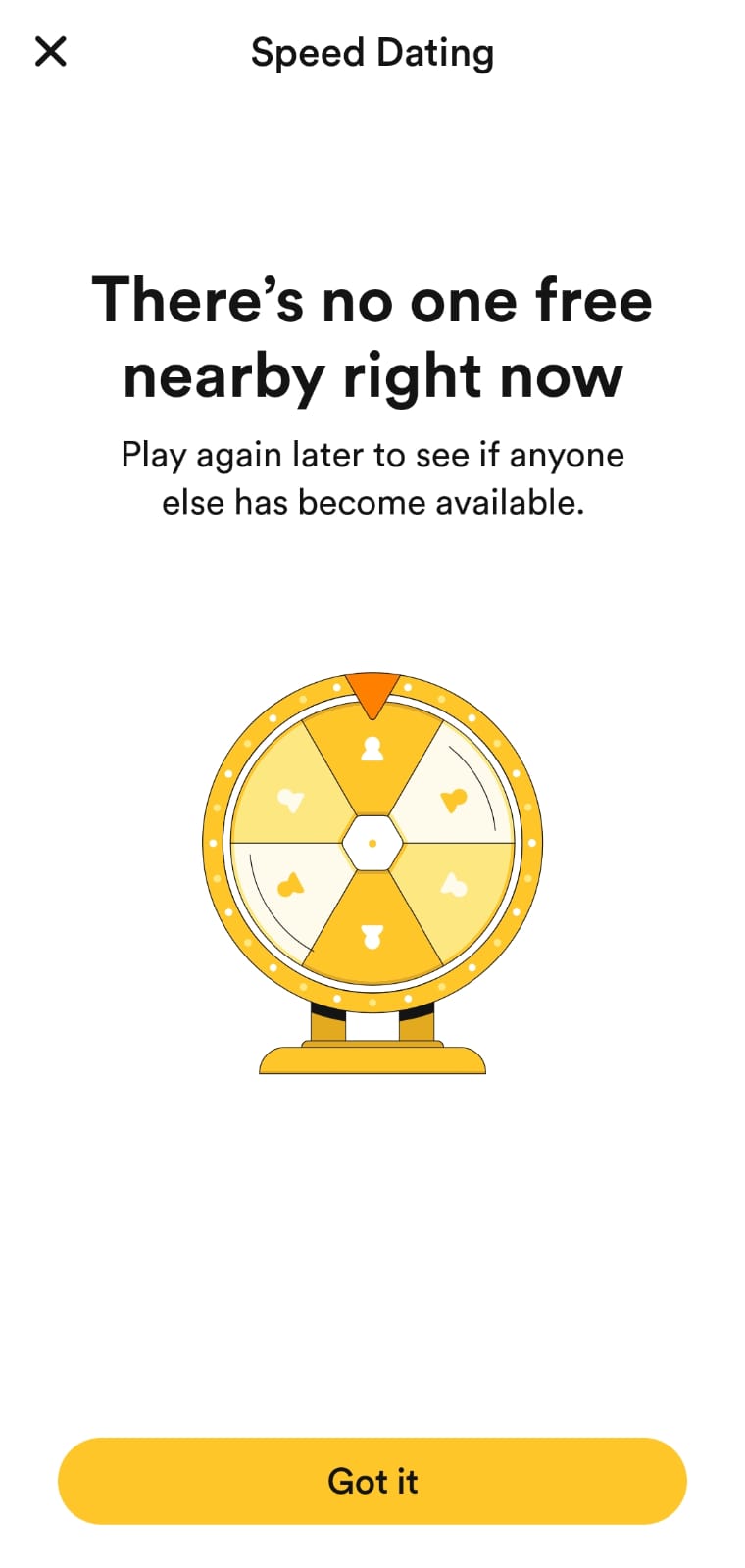 What! There is no one available! Seriously!
Point: The chat takes you on around a 1-minute search and stops automatically. You need to click 3 more screens to start the search again. This was one of the most annoying.
Reality: Bumble doesn't have enough female profiles and they keep this barrier to create a feeling that people are available and you should retry to get them.
4. Let's try again
Let's try again and go with the annoying 3 steps to start a "speed dating chat search". LOL!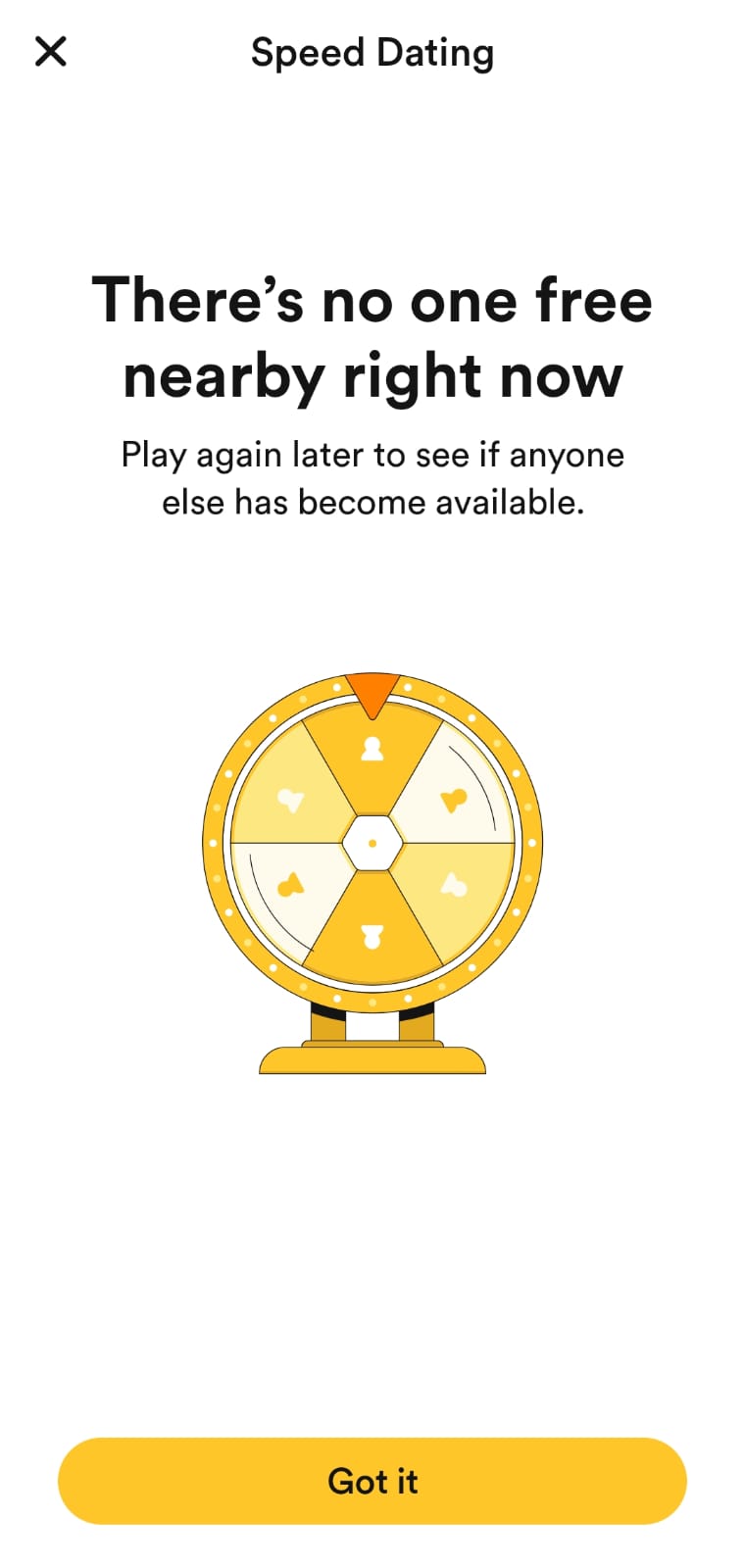 Ooh, Dam. There is no one available
5. Let's try again!
More people have joined, amazing. Looks like we will get a chat.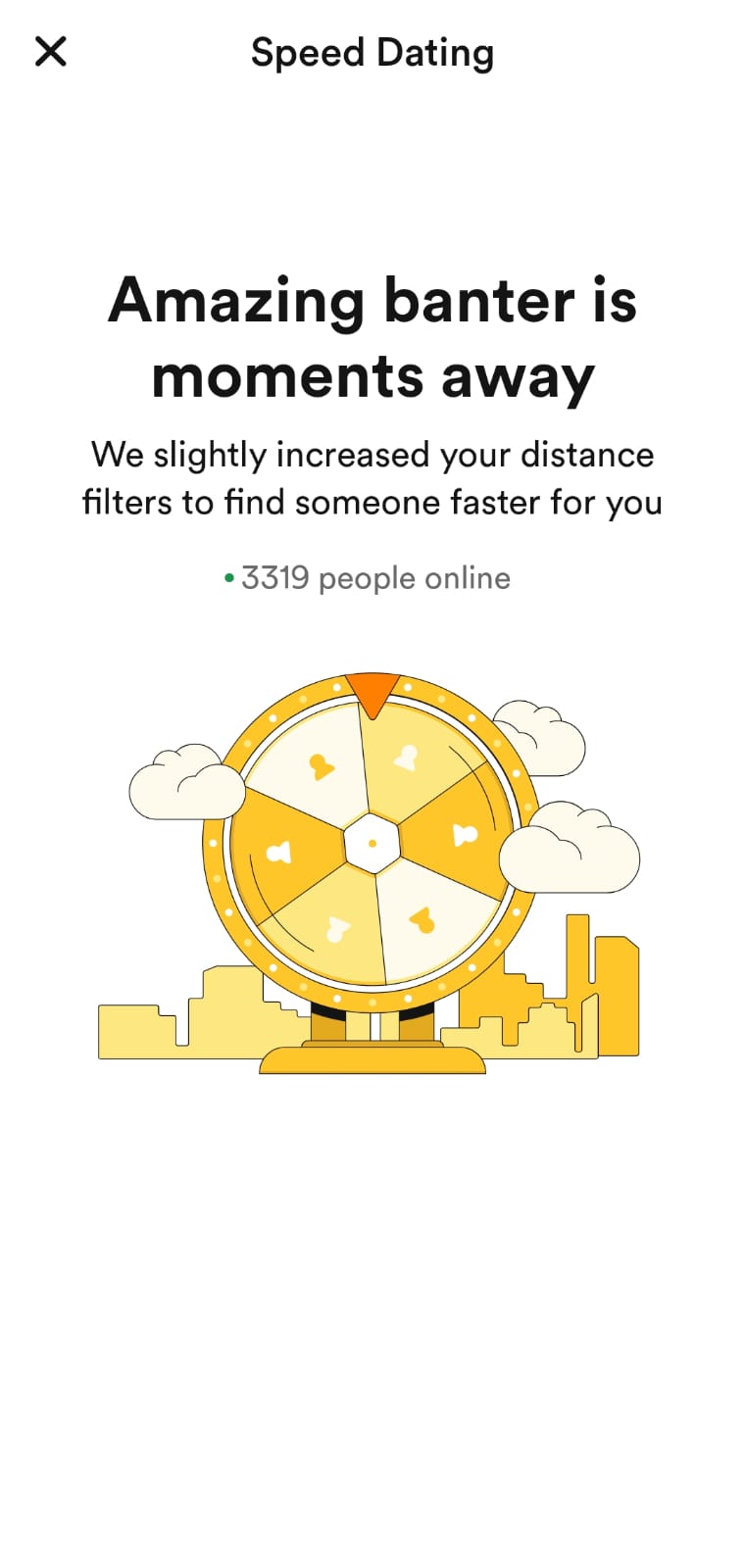 We should get a chat this time because people have doubled!
6. Ooh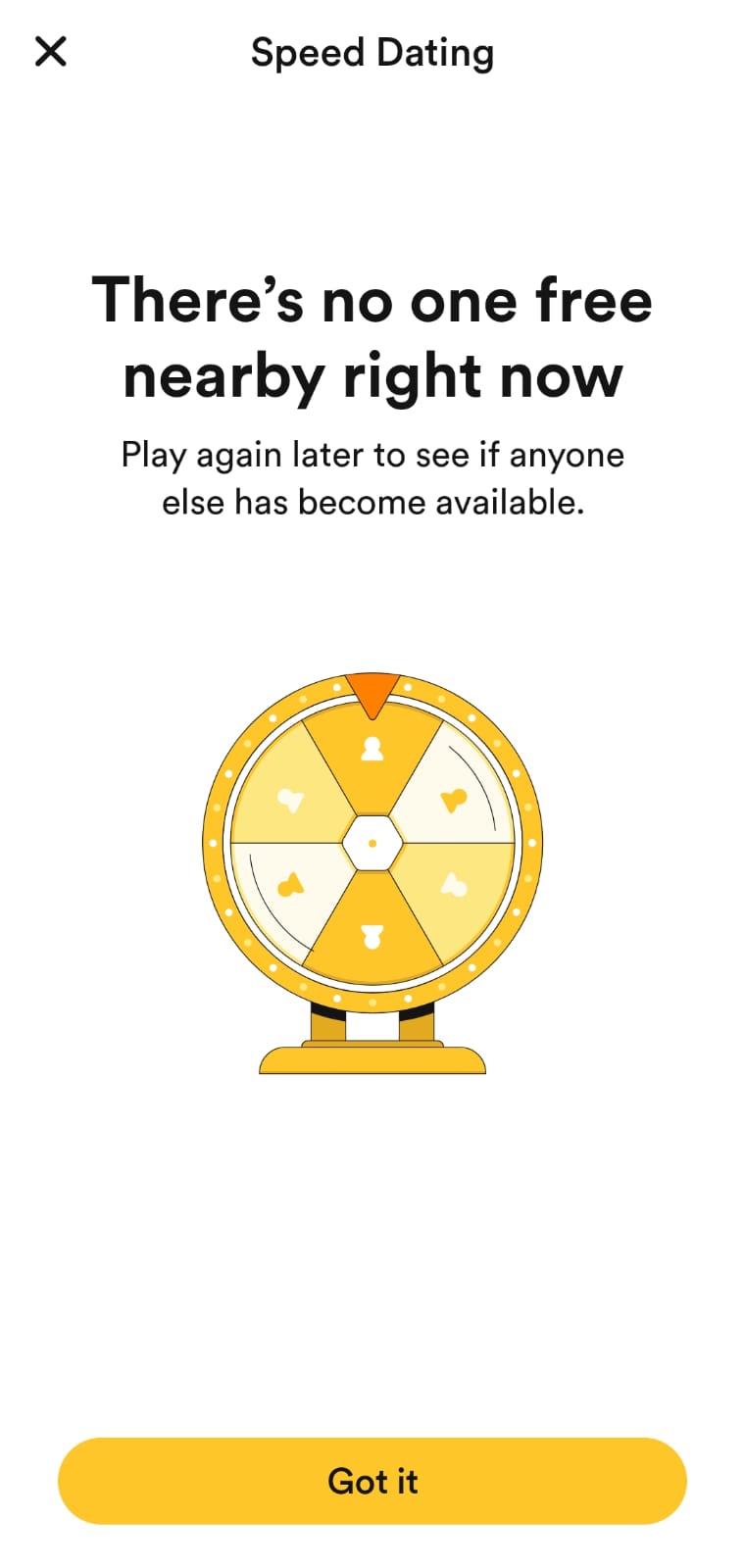 And now I have self-doubt!
Self-doubt: Am I ugly, why does no one likes me?
Ooh, not really! My photo is not visible to speed chatters! They can't see my profile.
7. Let's retry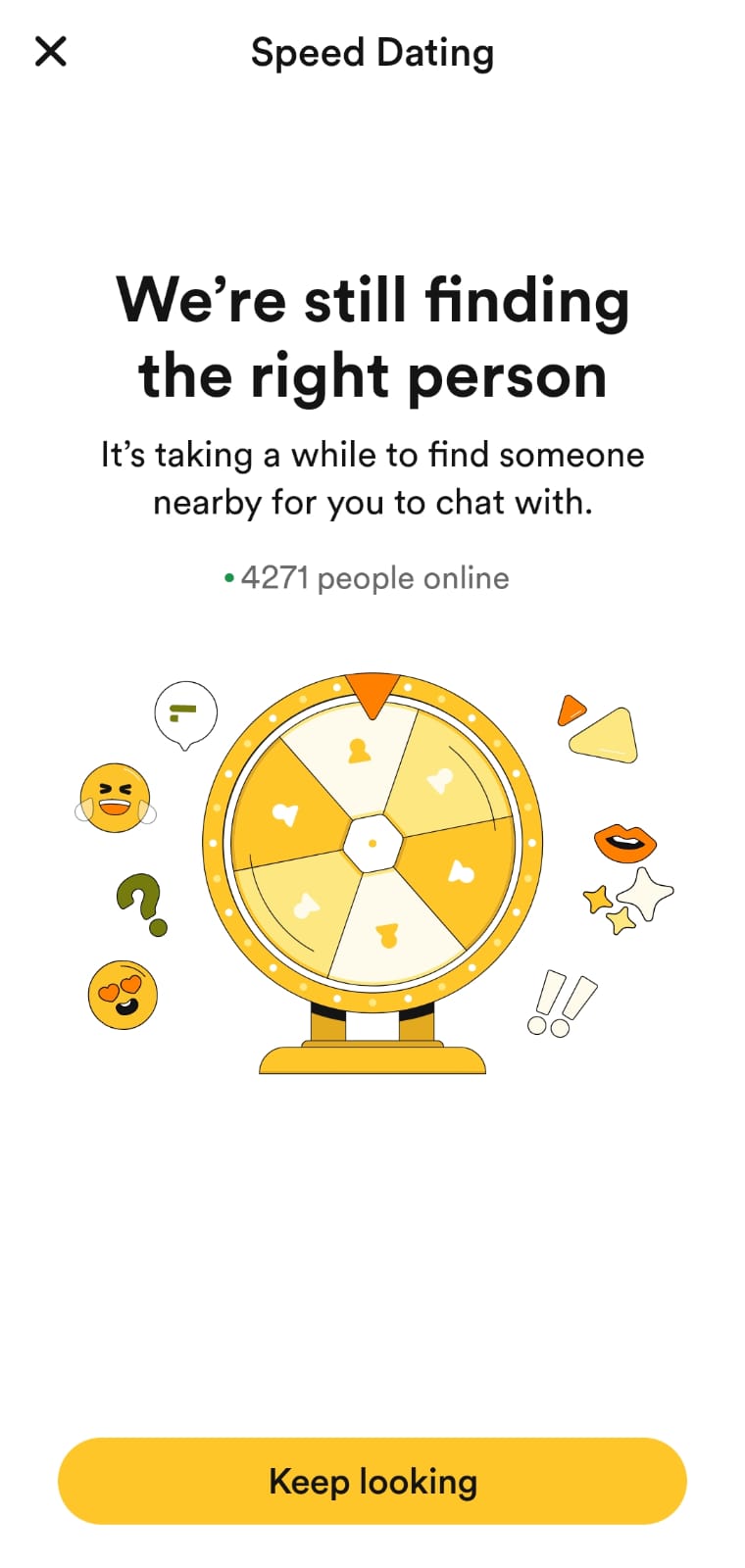 8. More people, more hope. I should try again.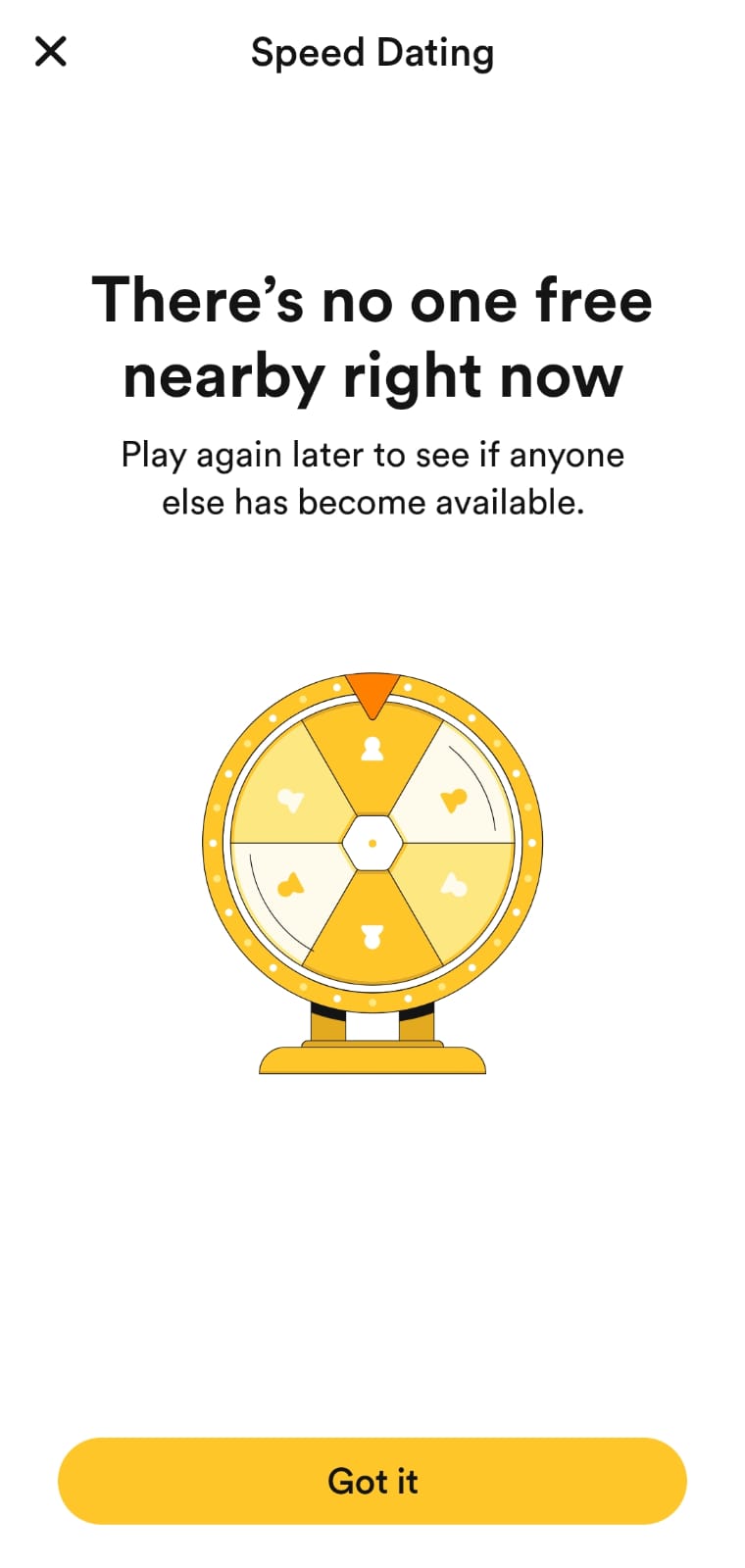 Damm! I am still not able to find anyone to chat with.
Self-doubt: Foger swipes, I am likely the worst guy who is not getting people to speed chat.
9. Quote comes in mind "Finding the right partner takes time, spend some time and have patience"
That BS in mind while trying to find people on Bumble is really hilarious. LOL 😀 on Myself.
Let's retry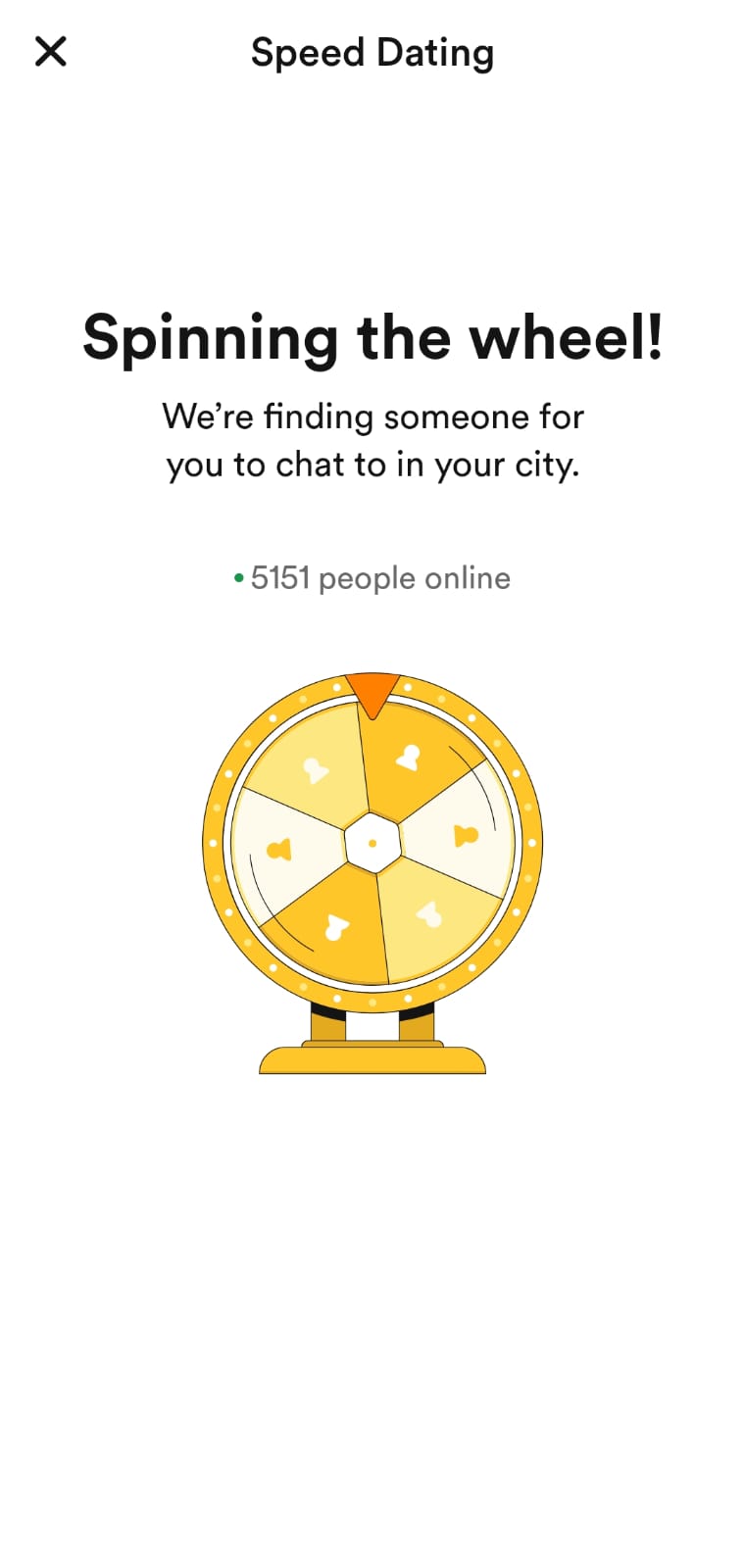 Damm No luck!
10. Finally one chat! 
A person who is vegetarian, higher in age
11. I have paid for this service I should try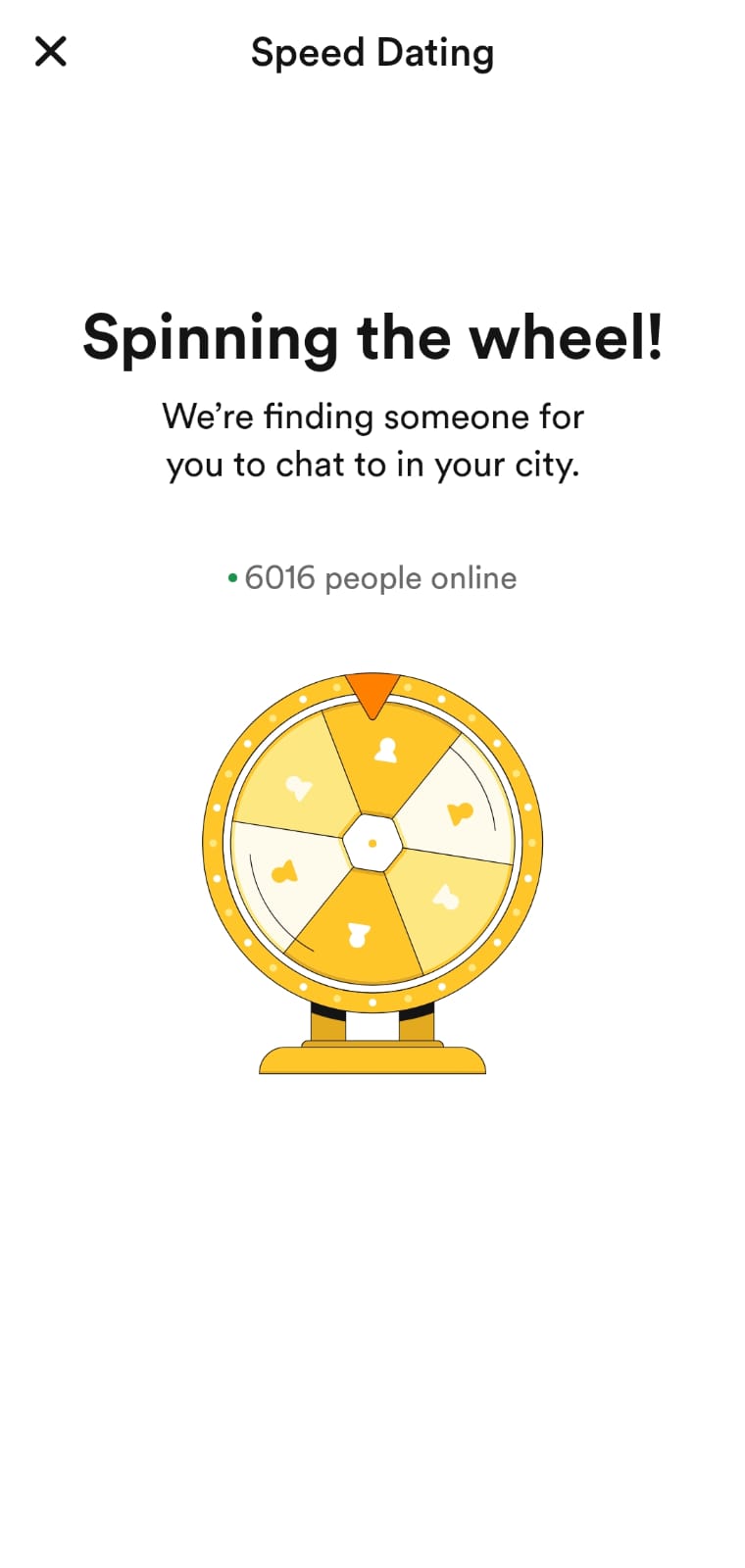 12. No one, let's retry! 
By this time, I started having my evening snacks considering that I will not get any!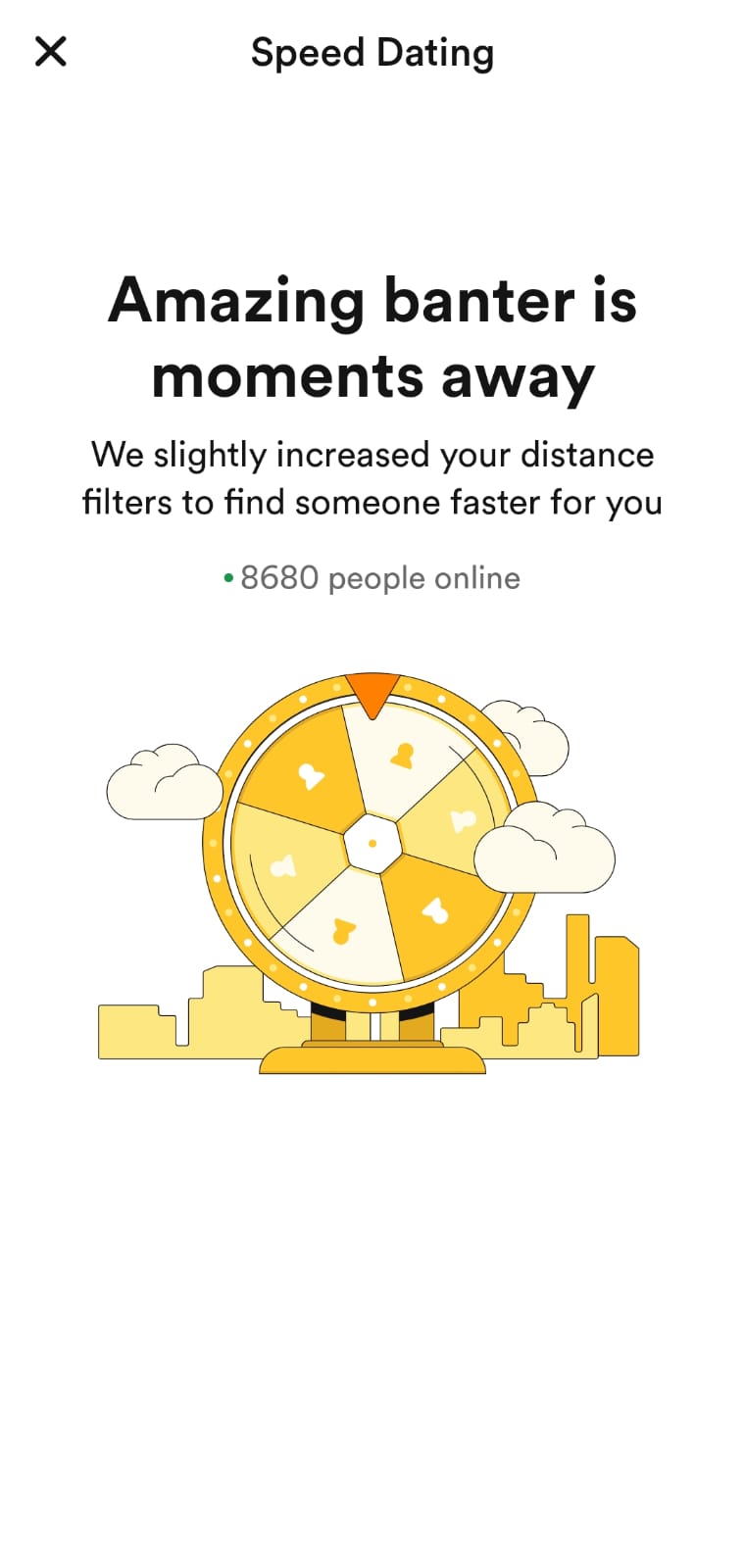 Bumble is now showing 7800+ people online. There must be someone with whom I will be able to chat!
13. Let's retry, Buble is showing that more people are online.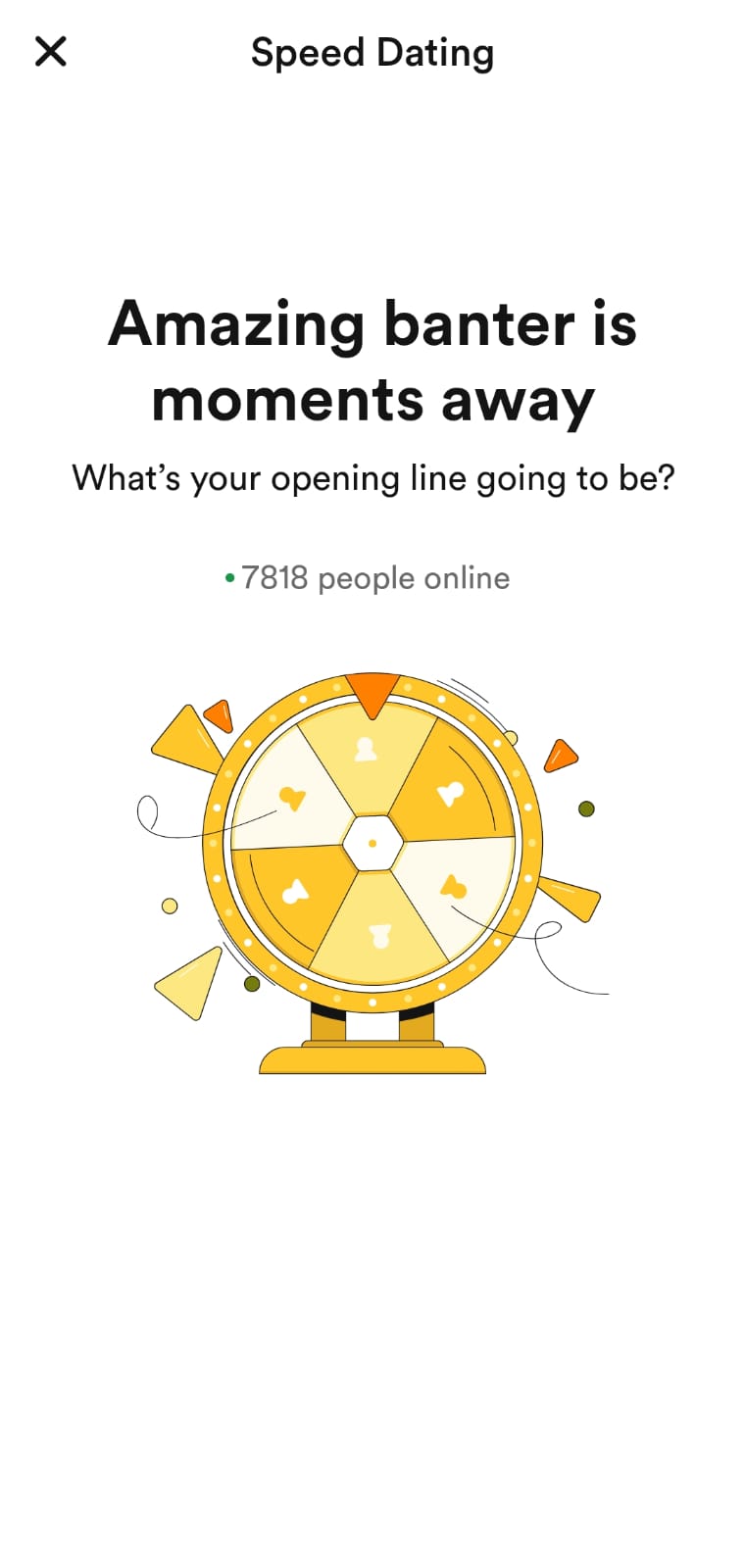 14. 8,200+ people! Seriously! I am still not able to chat with people!
What's wrong with me?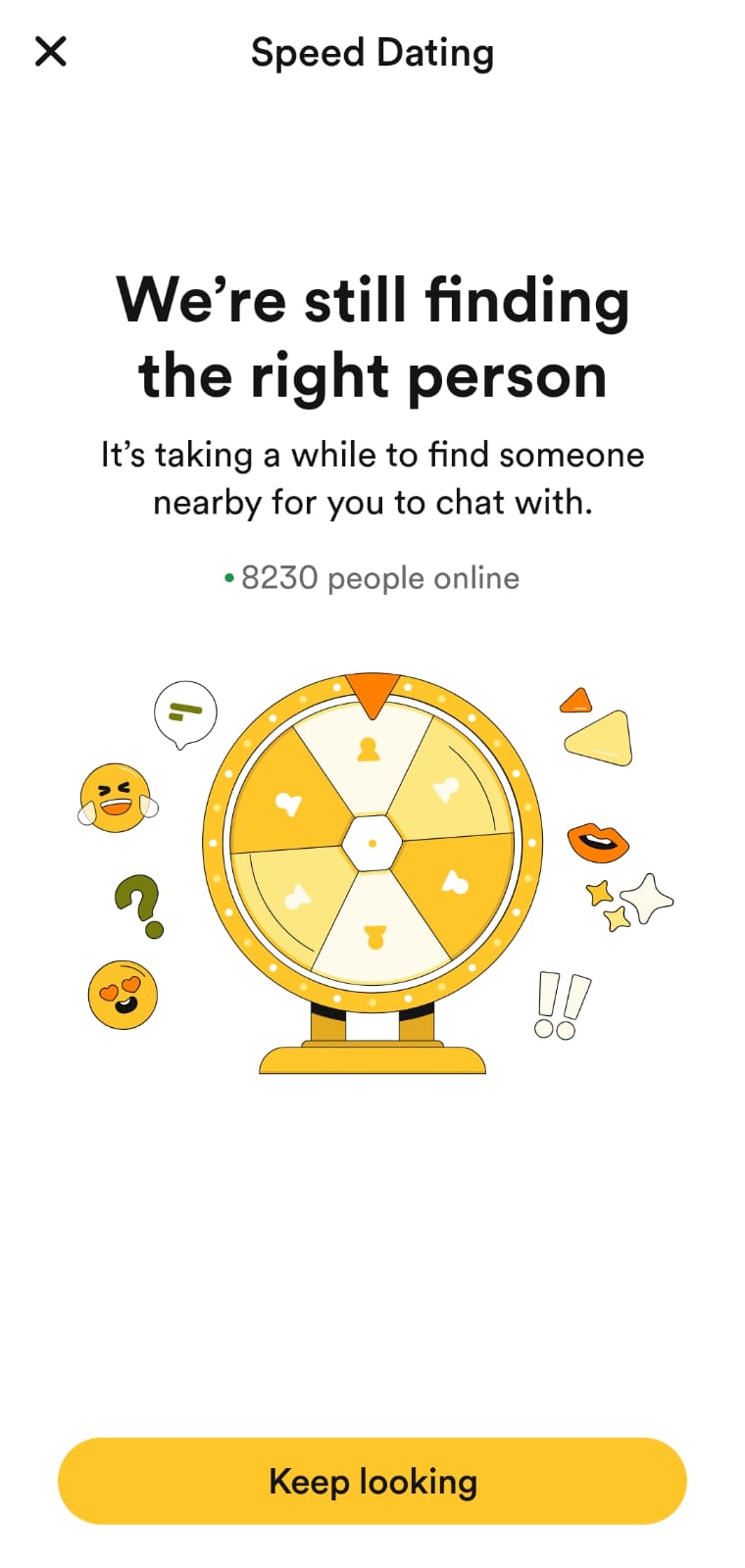 15. Forgot sake, anyone!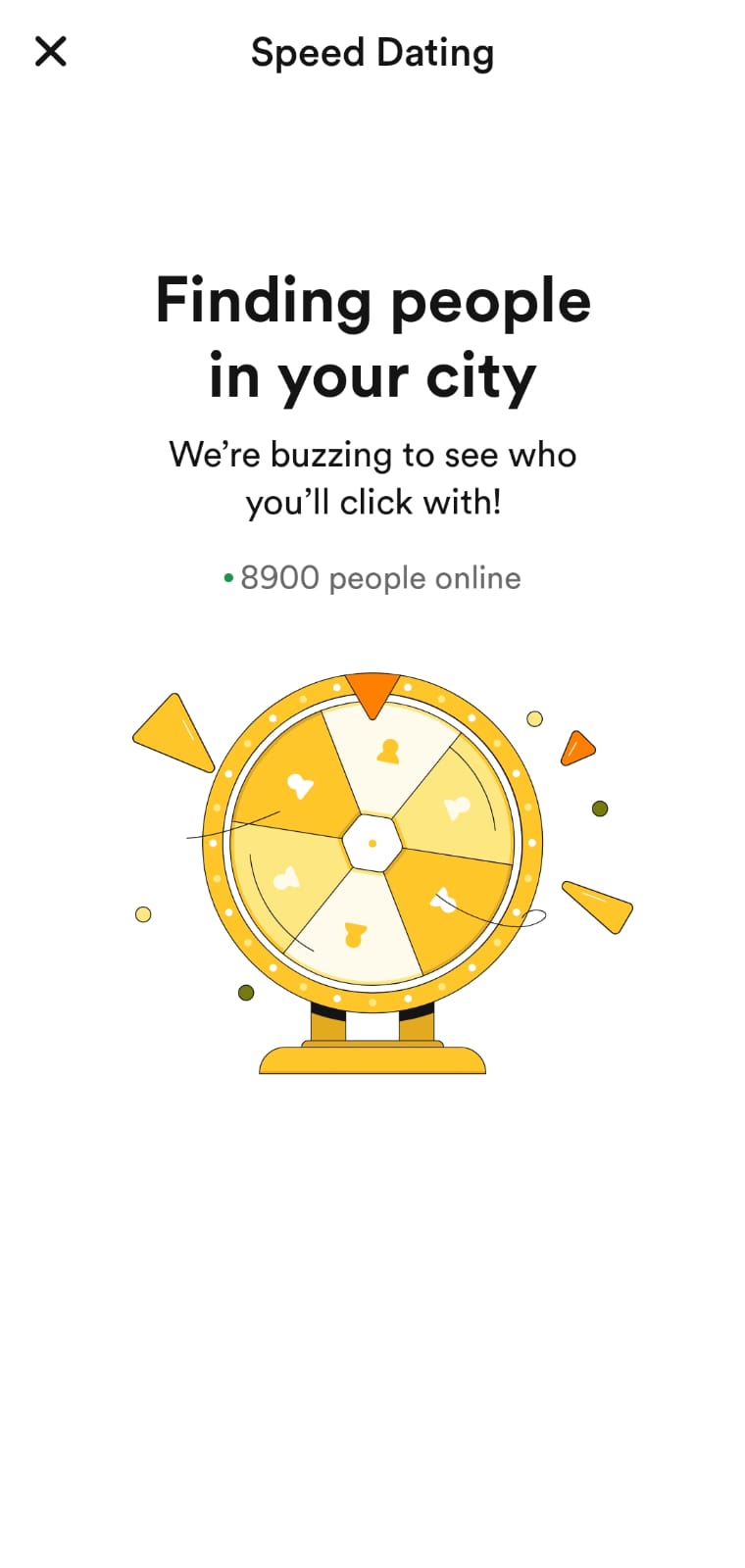 16. Let's try
I will try until it matched, Let me do my work side by side and just click those "3 annoying buttons" after it shows the ugly message "There is no one to chat"
Note: The user count is now lowering as 08:00 pm approaches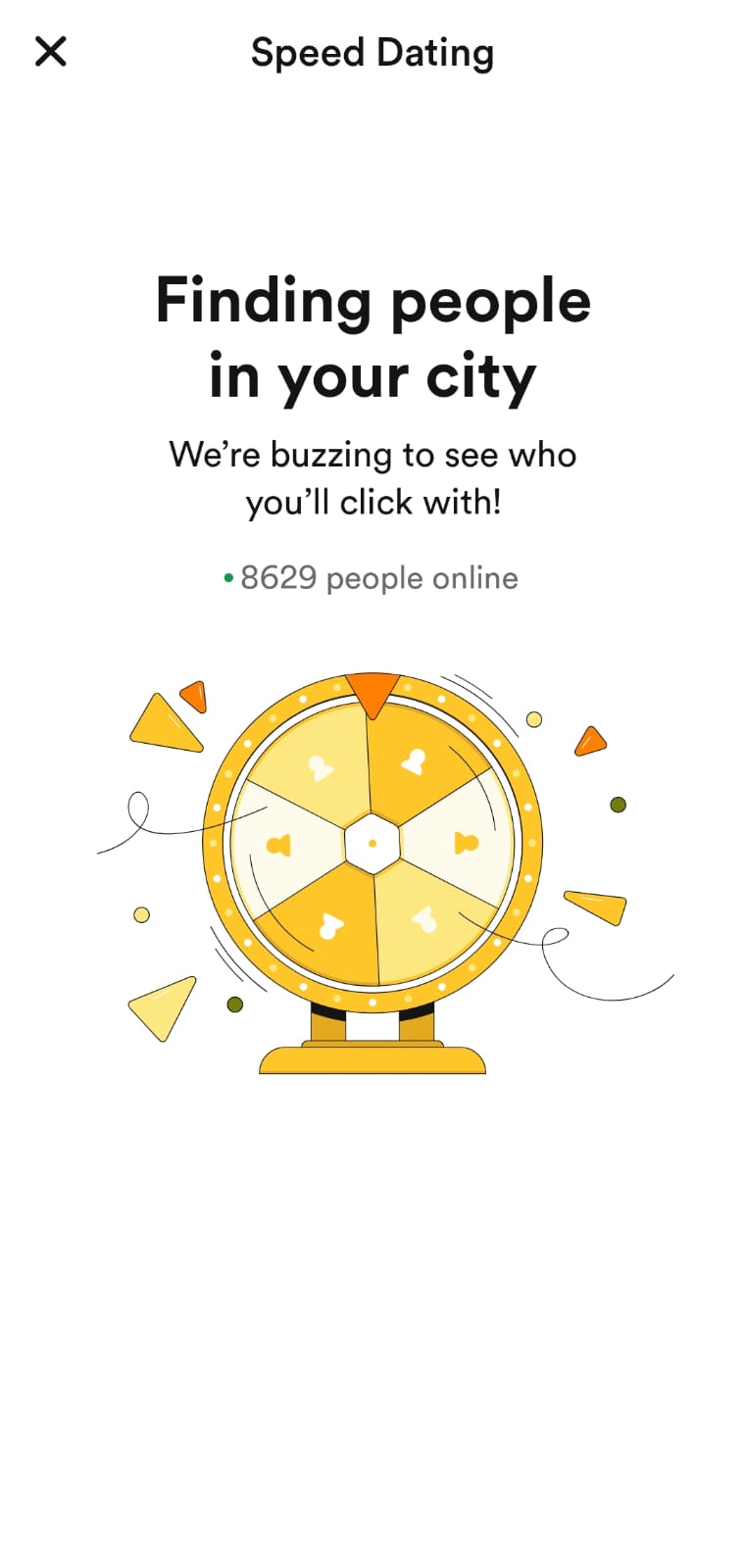 17. One more retry
Even lower users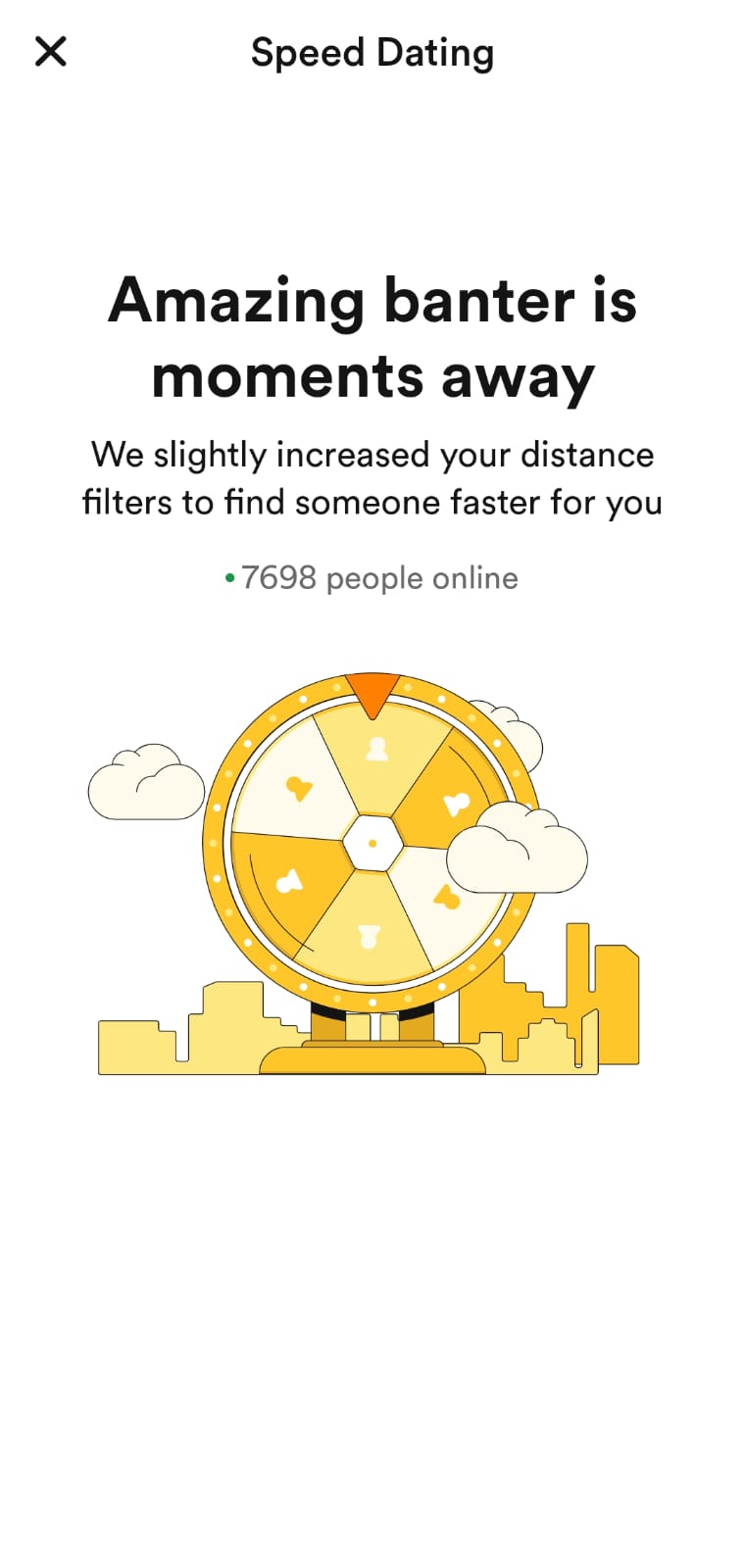 18 . Retry with Even lower no of active users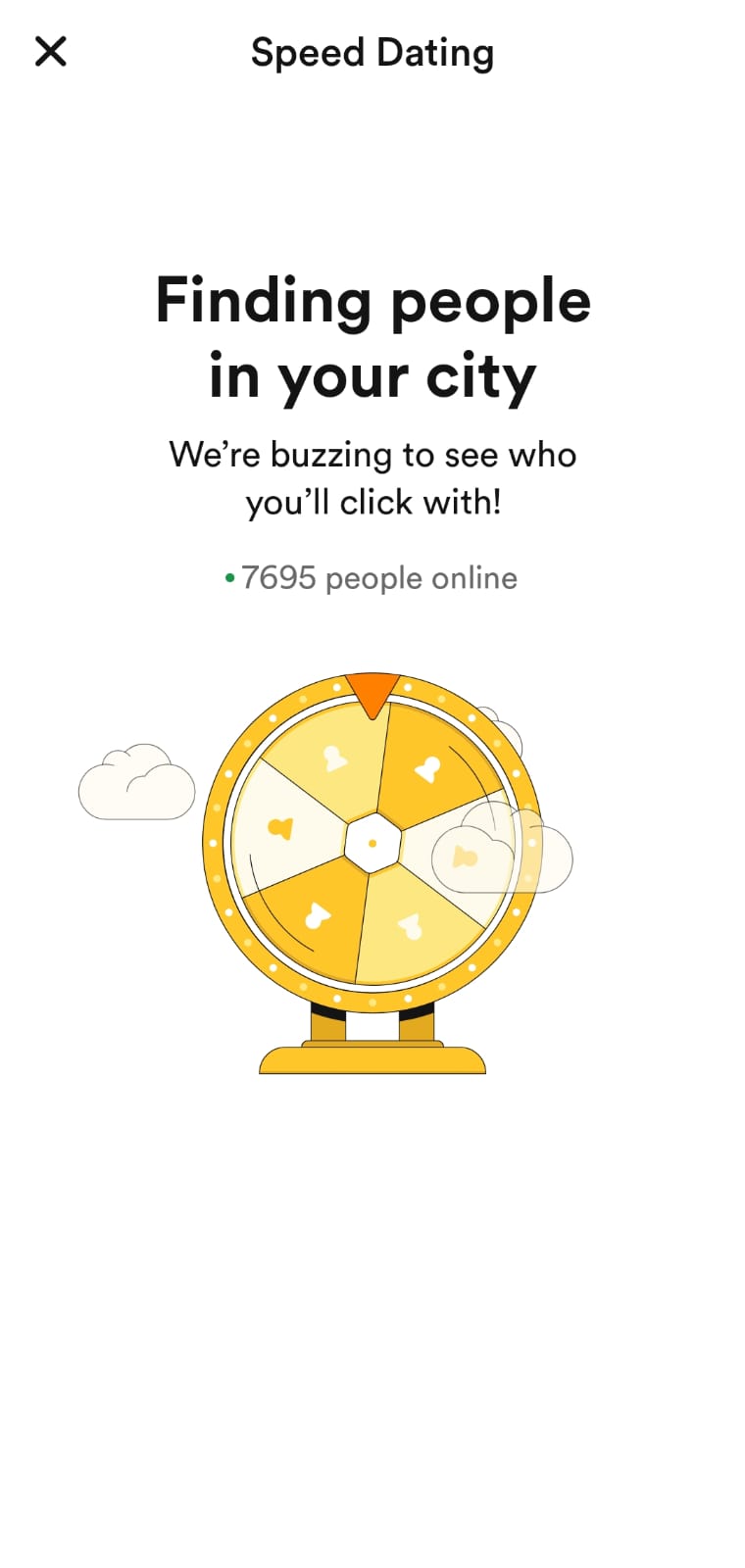 And finally! It's 08:00 pm.
Bumble gave me a message telling
"Hope you enjoyed the Speed Dating".
Ooh, God. FInally, this shit ended and I don't have to click those 3 clicks anymore.
After this, I took a break, and considered analyzing the cause of this.
Not just as a guy who wants to date but as a business and entrepreneur.
What could be the possible reason for this?
I went through many though, wrote a few things, and discussed them with my roommate and work partner.
Did
audience analysis
end-user experience analysis
Pricing analysis
Why there is a need of a spotlight
Why there is a need for a super swipe
Why women are treated better by these platform than men
Cause of no chat allocation
Possibilities of this issue
User experience analysis
Possible solutions
Bringing transparency points for dating apps
What can I do make people aware of this manipulation and much more.
I am an entrepreneur, and a mar tech entreprer. I understand the way google, Facebook and most of tech businesses work. I am also curious thinking, I spend time in understanding different type of businesses. Let be it good or bad. We will let society describe that.
This was an interesting multi-billion dollar industry where a lot of men get manipulated, to be straight forward, scammed to pay money and indirectly pushed into the mental stage where they feel "that isn't good enough" or "doubt their abilities".
While experiencing Buble, I took a screenshot to share my experience. To be honest, I sensed this thing way before even when I wasn't dating. But a brand like Buble will be using this shit, I wasn't sure. So I took a screenshot of the whole experience to present proof that presents the technological difference created for men.
And came to the conclusion that "females are very fewer on these platforms than men".
Businesses like bumble "target men as customers", females have more features even in the standard version.
I seriously think a feminine should now come and show "we want equality". 😀
How can they improve? 
Maintaining transparency of no of makes and females. And being fuckinh honest.
It can be shown on the place where they are showing online
[male: 3017, Female 1800]
This will allow users to remain calm and put the effort in making it happen.
I personally feel this dating platform plays with emotion and creates scarcity with misinformation/less information to make money with premium, spotlight, and super like.
One will be able to perform way better if they have general communication skills.
The best connection and friends can be found in
Events
House Party
Friend Referral
Chating on Insta
Just being a friend and taking it forward
There is more context to this, I will update this article as I get more time.